Beschreibung
PAY ONCE USE LIFETIME
Your sales funnels are starting to dry up, and searching for new leads feels like looking for a snow cone in the desert. ("At this point, I'd settle for an ice cube.")
Meeting your sales goals is a top priority, but that doesn't seem possible when there aren't any leads to convert.
What if there was a tool that could help you automate your lead generation, contact hundreds of prospects per week, and lighten your workload?
Meet Waalaxy.
TL;DR
Get in touch with up to 700 prospects per week on LinkedIn
Retrieve the professional email addresses of prospects and send them automated outreach sequences
Best for: Freelancers, small businesses, and lead gen agencies that want to save time while scaling their customer acquisition
Waalaxy is a tool that lets you use LinkedIn and email to automate lead generation and messaging, plus monitor your team's performance.
With Walaaxy, you can generate hundreds of prospects per week with LinkedIn and email.Just download the tool on the Google Chrome Store and it'll automatically sync with your LinkedIn account. Then import leads via LinkedIn Search, LinkedIn Sales Navigator, or through a CSV file.Next, you'll get direct access to your prospects' relevant information and find out their occupation, company, and location with the click of a button.

While LinkedIn's invite quota is limited to 100 per week, Walaaxy lets you send up to 700 invitations a week to prospects.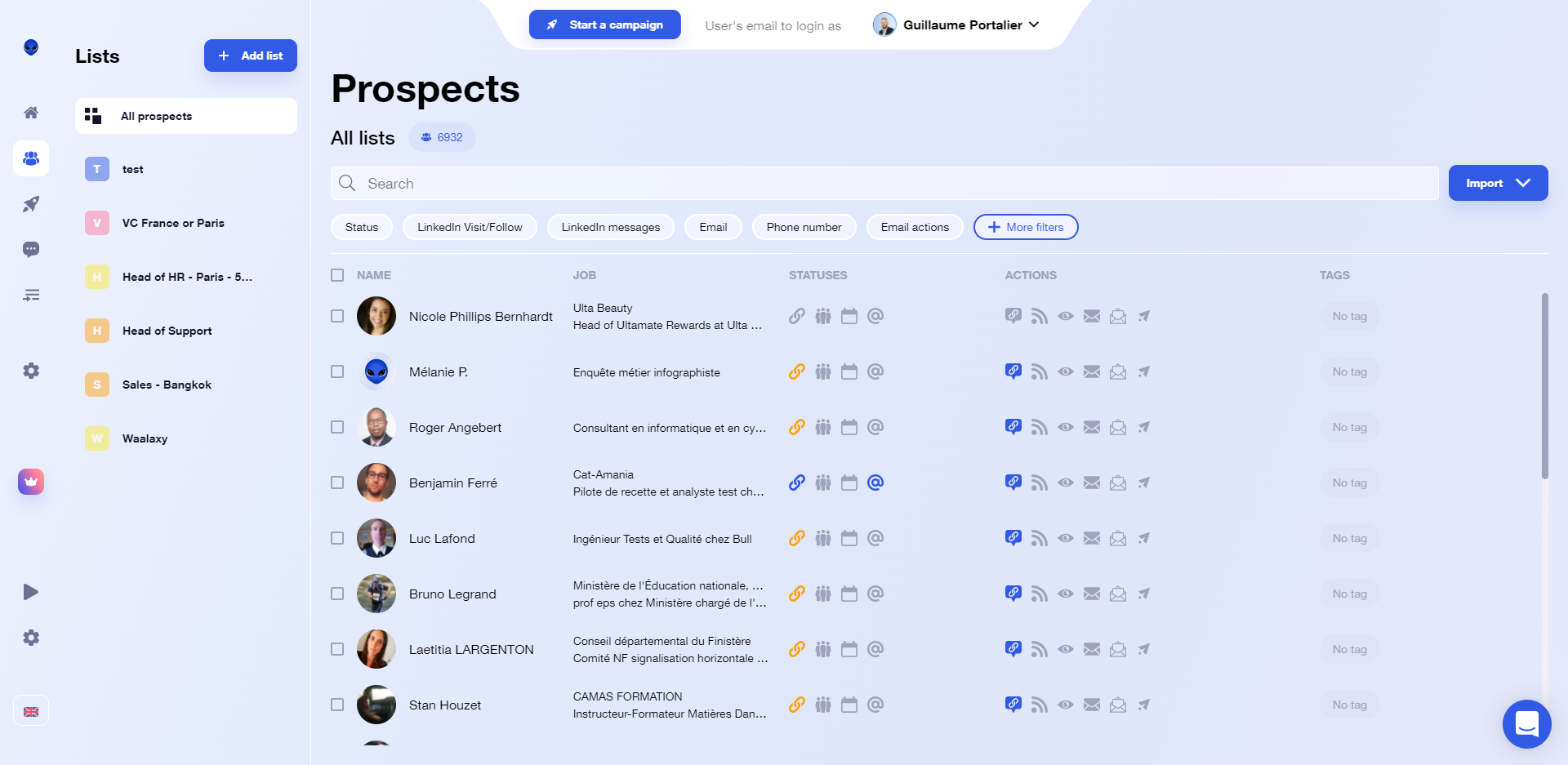 Head to the prospect page to get an overview of their occupations, companies, statuses, and actions.
If prospects won't accept your LinkedIn invite, you can uncover their email address through the email finder and send them personalized email messages.
Rest assured, you'll only receive professional and verified email addresses thanks to integration with Dropcontact.
Each email is retrieved through GPDR-compliant search and verifications algorithms, so you don't have to go the extra mile to search for a prospect's contact details.
You can also track your results on the main dashboard, which summarizes your email or LinkedIn response rate, prospecting status, and actions sent.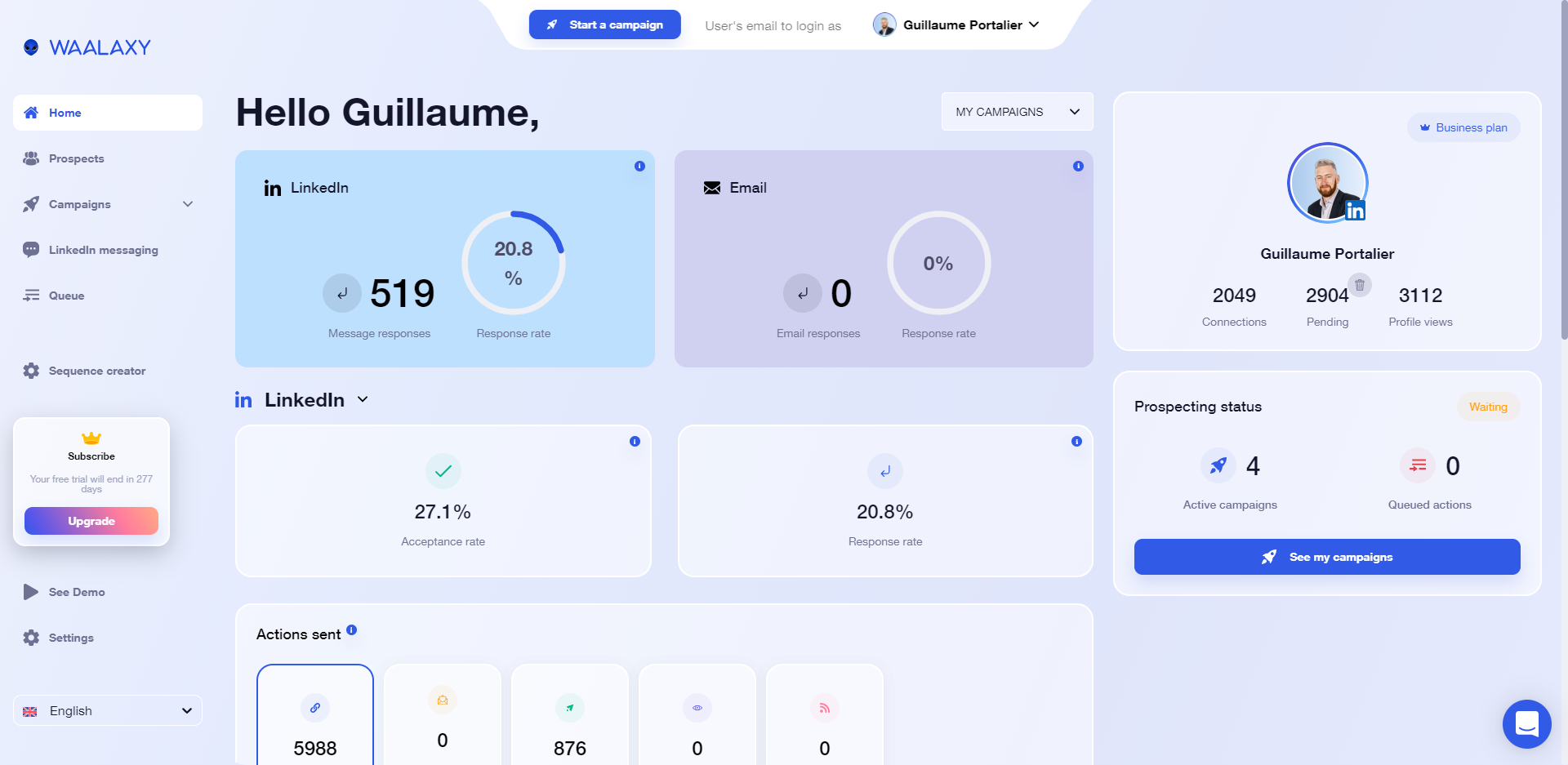 Get an overview of your LinkedIn acceptance rates, email results, prospecting status, and more on the main dashboard.
Walaaxy's numerous sequence templates let you deliver automated invitations and messages to your list of contacts on LinkedIn.
To drive leads deeper down the sales funnel, you can even create automated follow-up messages to increase your response rate.
That means your sequence of invitations, messages, and emails will be sent in succession until your prospect responds.
Best of all, you can build complex workflows and trigger campaigns when people comment on a LinkedIn post or visit your profile to attract more leads with minimum effort.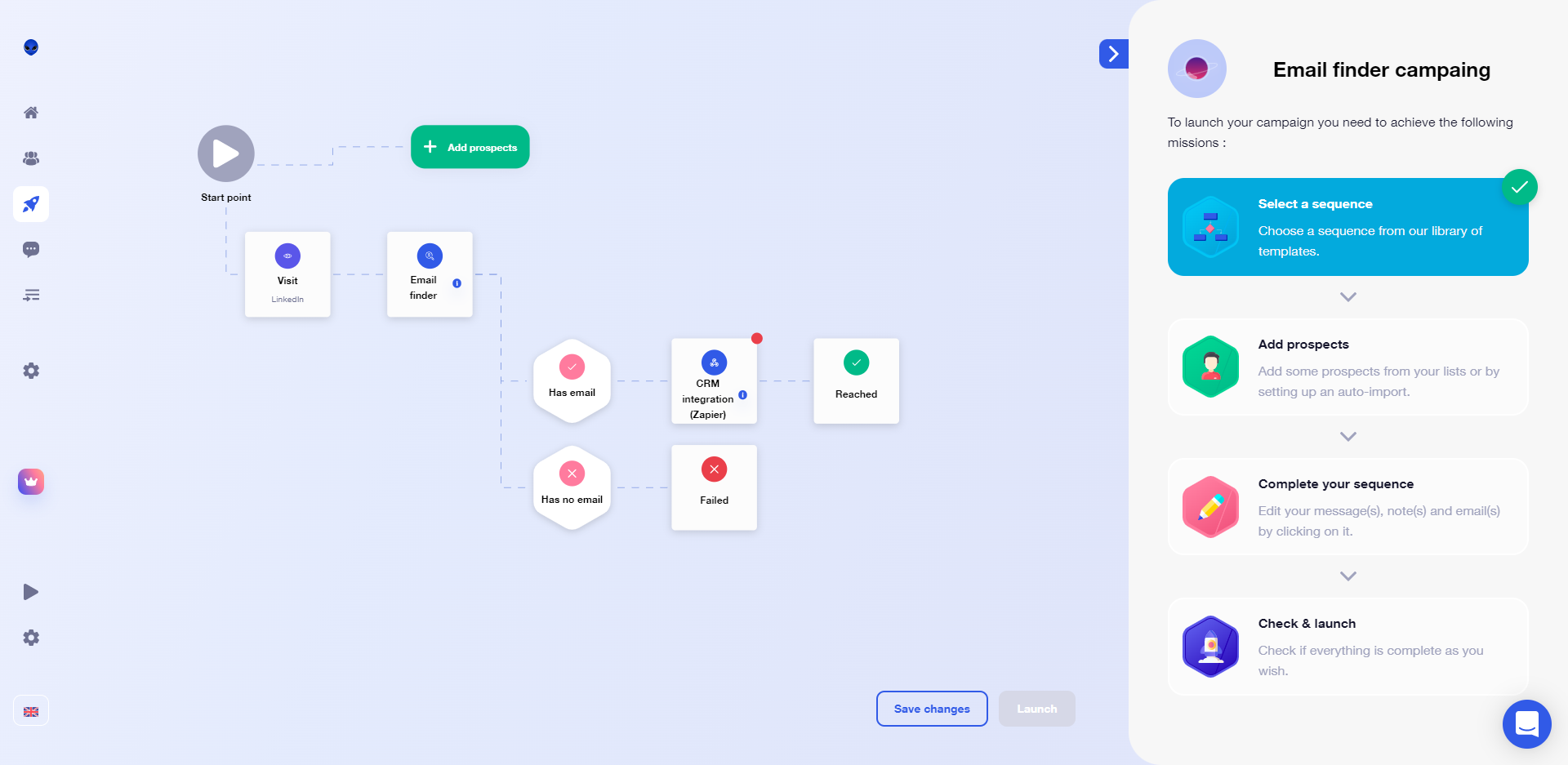 Select a sequence from the template library and add prospects from your list to quickly launch a campaign.
Want to get your team on the same page? Waalaxy lets you combine several accounts in a single interface, without accessing your team members' personal LinkedIn accounts.
You can seamlessly import leads from different accounts and export leads across accounts within your team.
Account owners can add and remove members, as well as manage their access permissions at no additional cost.
Plus, you can access your team's performance in a centralized dashboard to evaluate your prospecting strategies with ease.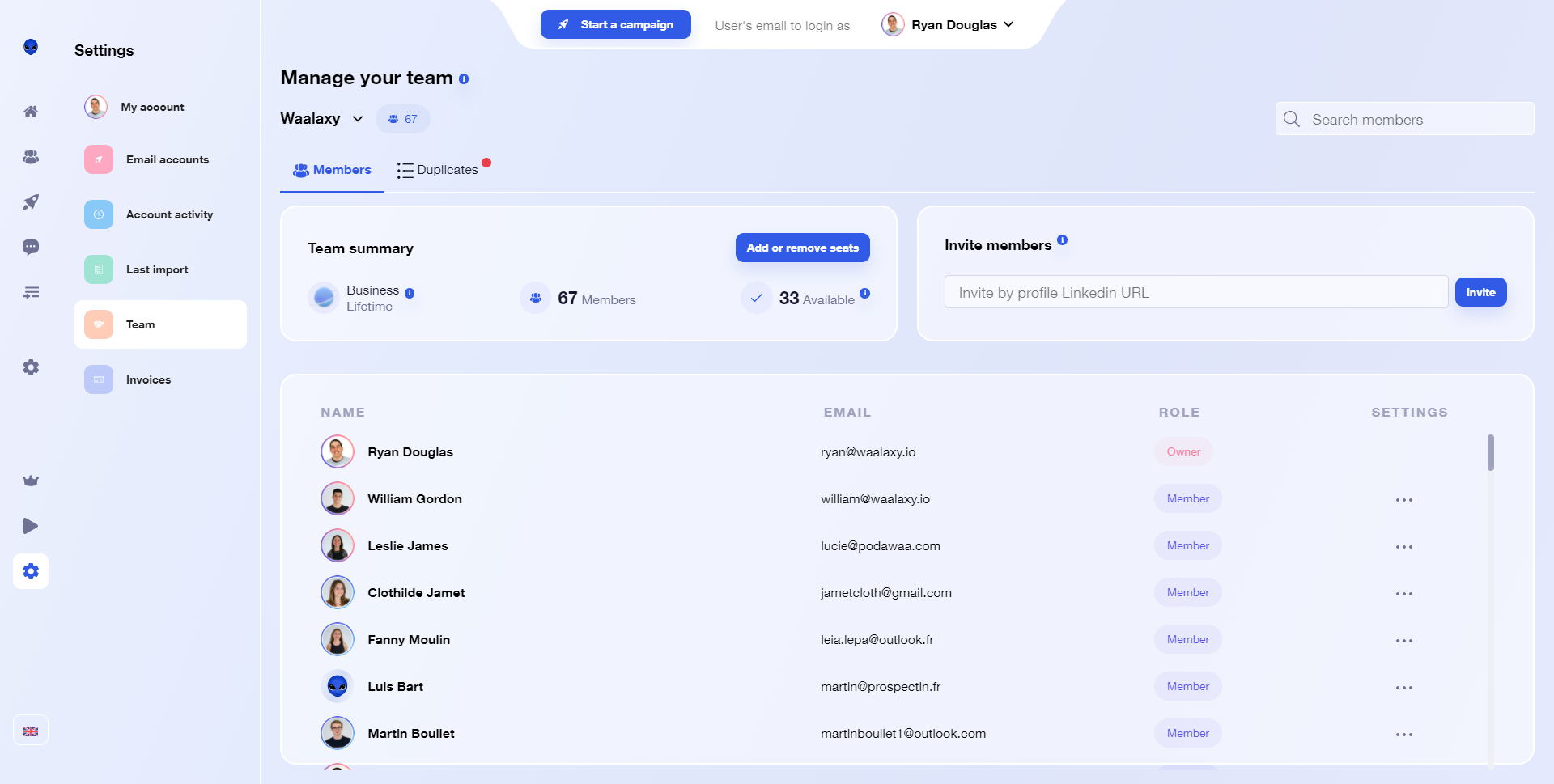 Manage the accounts of your team and view their performance through a centralized dashboard.
You need a fresh stream of leads to grow your business, and you can't just keep asking every one of your friends if they "know somebody." (Not if you ever want them to text back again.)
Walaaxy lets you find hundreds of email addresses a week, send automated messages, and build complex workflows to convert more people in less time.
Get next-gen lead gen.
Get lifetime access to Waalaxy today!
---
Plans and Features
Deal Terms
Lifetime access to Waalaxy
All future Business Plan updates
No codes, no stacking—just choose the plan that's right for you
You must activate your license within 60 days of purchase
Ability to upgrade or downgrade between 3 license tiers
Only for new Waalaxy users who do not have existing accounts
60-day money-back guarantee, no matter the reason
Features Included in All Plans
LinkedIn and email features
700 invitations sent weekly per seat
CRM synchronization through Zapier and Integromat
Auto imports of LinkedIn profiles
Email finder via Dropcontact
Centralized dashboard and campaign management
Export from one account to another
Easy sharing of prospect lists
Anti-duplicate management
Multi-account management
Admin capabilities