ONLYFANS CLONE SCRIPT – BUILD A SUBSCRIPTION-BASED INTIMATE ADULT CONTENT PLATFORM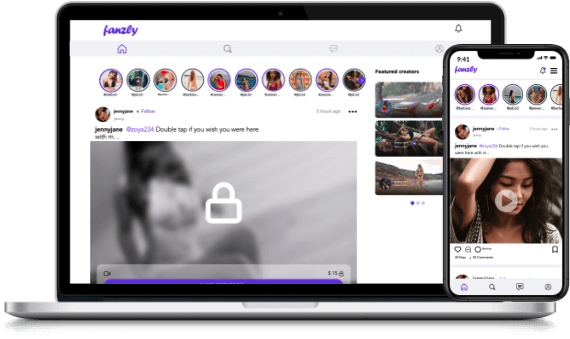 Our OnlyFans clone is a secure content sharing and streaming platform for entertainers and content creators of the adult industry.
Encash the isolation norms due to the pandemic by building an interactive intimate erotic content site with features like purchase posts, send tips, and live streaming.
What is an OnlyFans Clone?
OnlyFans clone is a premium content subscription service that streams content from various genres like intimate content, physical fitness, music, and has a similar business model to the OnlyFans app.
Our OnlyFans clone script is a pre-built content sharing solution that allows creators and celebrities share videos / photos with their followers and get paid for their content.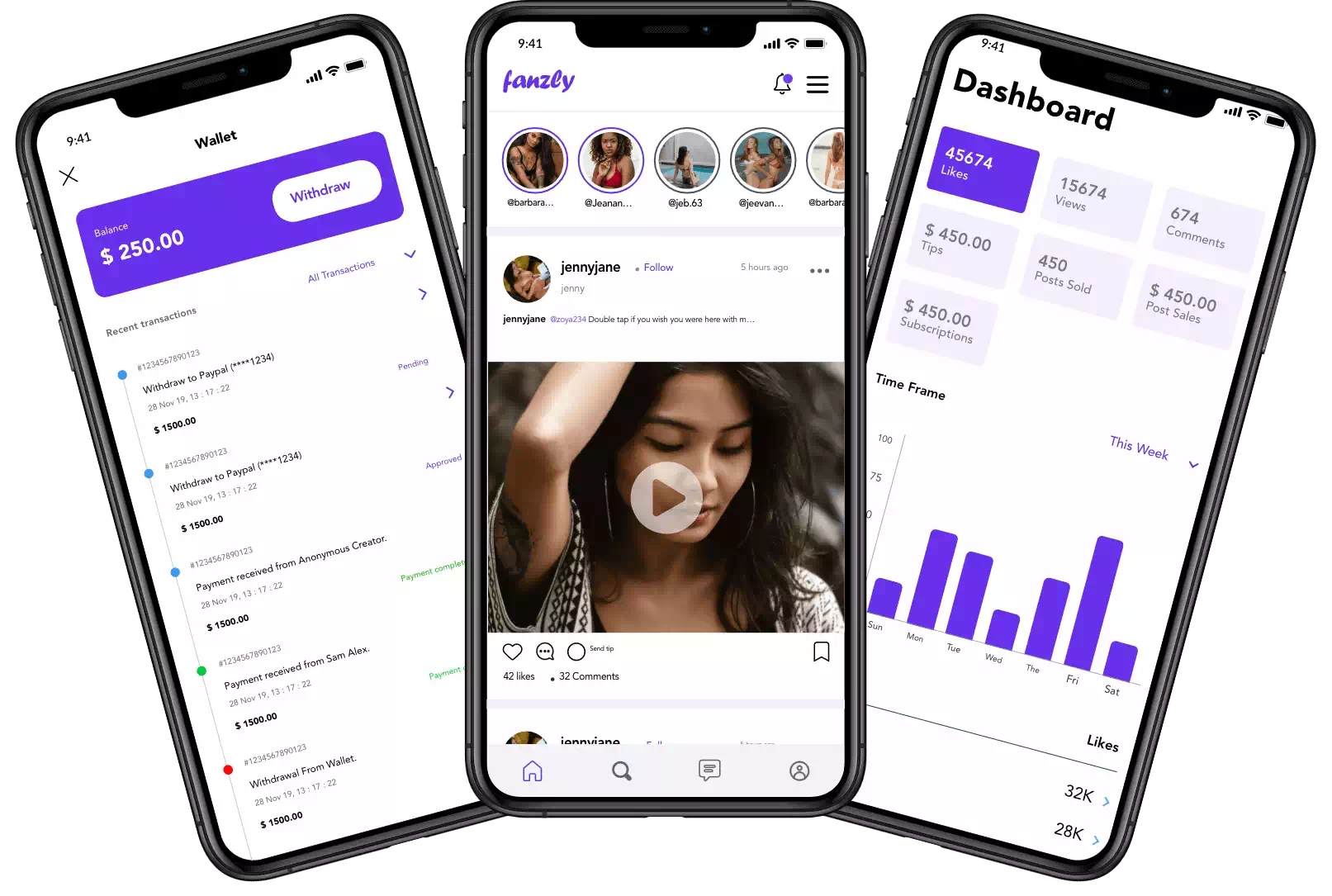 What are the features of the OnlyFans clone?
The OnlyFans clone script includes top-notch features like an interactive feed of celebrities to watch content. Creators can upload videos, photos, and earn money through a subscription model.
Creators can even set subscription prices, earn from exclusive messages, and also get tips from subscribers.
Create price-locked exclusive posts. Individual subscriptions to creators.
Send tips to creators.
Seamless billing process.
Unique Fans.ly wallet.In-built Stripe payments.
In-depth Dashboard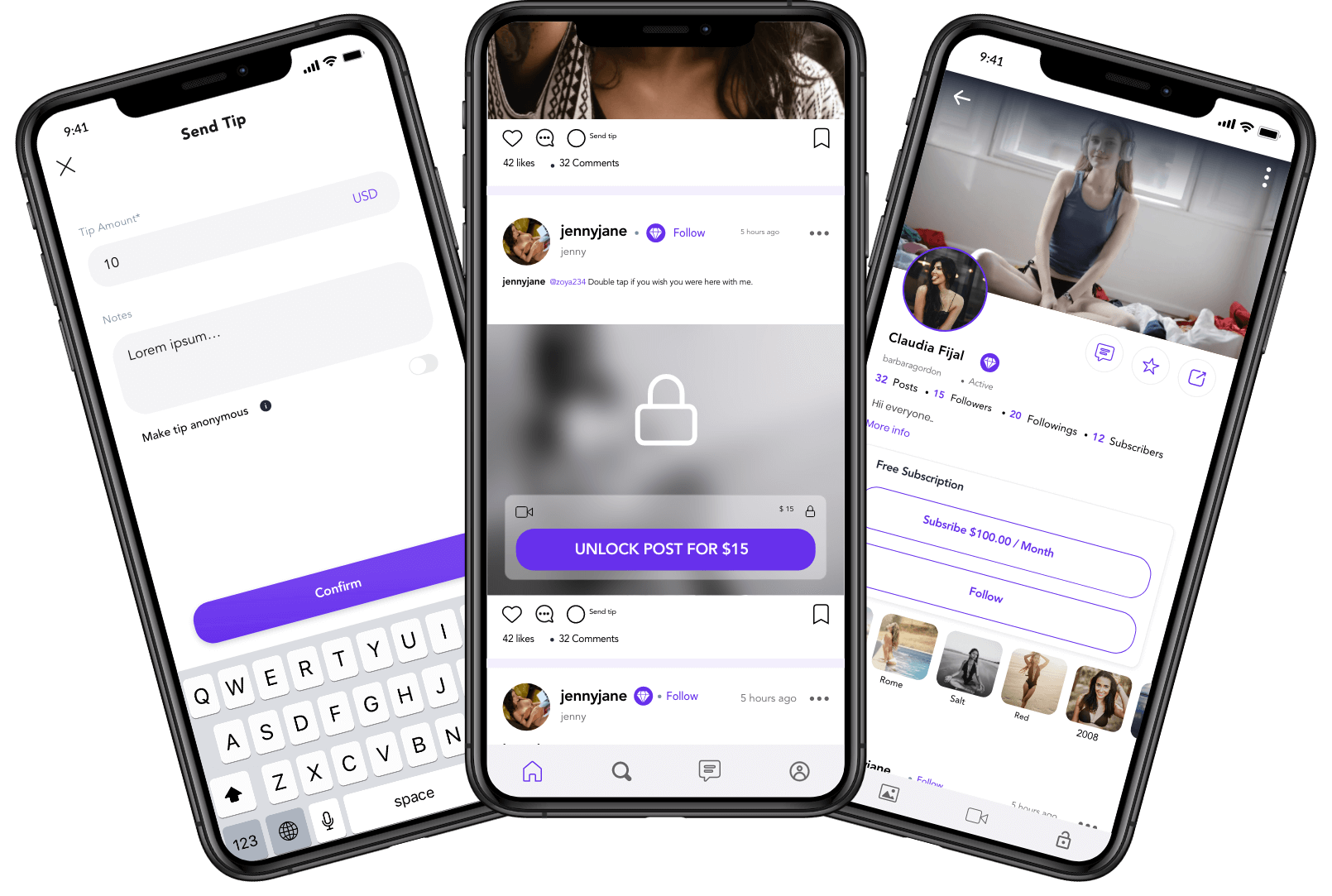 How creating an OnlyFans clone can become a profitable business?
The adult entertainment industry is clearly seeing an upward trend in these difficult times where businesses are trying to just stay afloat. People are wary of physical contact and are moving towards intimate personalized content that sites like OnlyFans and IsMyGirl are offering.
With 24 million registered users and 450,000 content creators, these sites have generated around $725 million.
With rising needs, these sites are observing about 200,000 new users every 24 hours and 7,000 to 8,000 new creators joining every day.
How To make money on OnlyFans Clone
Revenue Model

Monthly Subscriptions
Creators can set their monthly subscription prices. The app earns a commission from every subscription.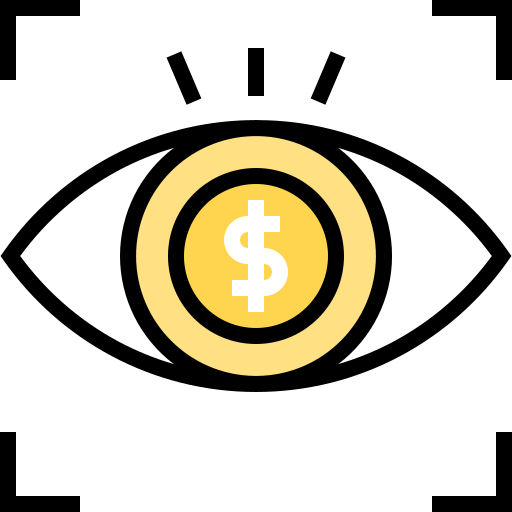 Exclusive Posts
Subscribers can purchase price locked posts. A % of earned money is assigned to the app.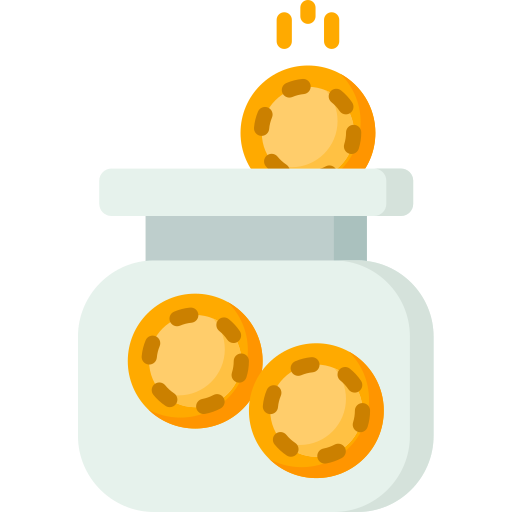 Extra Tips
Subscribers can pay tips on viewing any creator's posts, exclusive posts, or stories.
Irresistible Features Of OnlyFans Clone
Interactive Subscriber UI Flow
OnlyFans clone script is focused on catering to audiences who crave adult-themed content. Being a subscription-based platform our script ensures to recommend and access quality content seamlessly.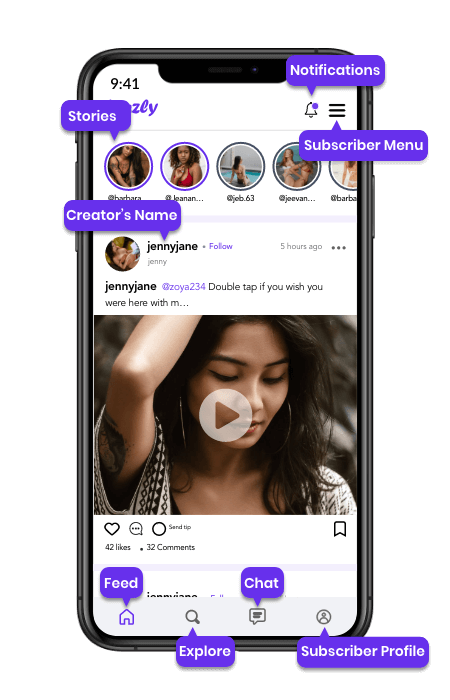 Best Recommendations
Our easy-to-use UI and receptive algorithm recommends top creator's content and also all subscribed content readily available on home screen.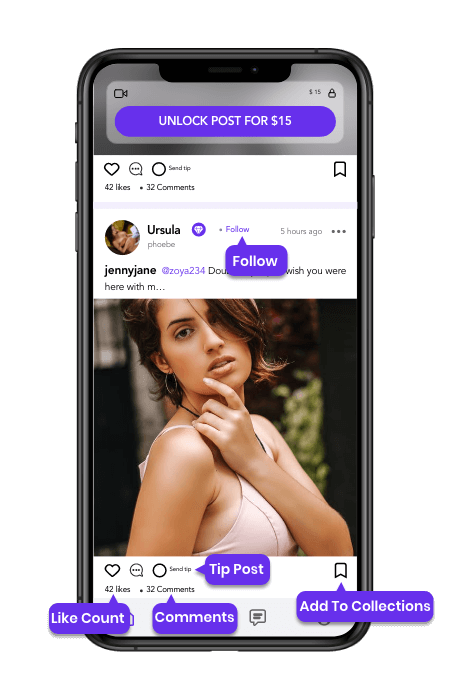 View Posts
Subscribers can follow, like, share, add to collections and view live streams of the creator. They can also tip an amount to a post of their choice.
REVENUE MODELS | MULTIPLE REVENUE STREAMS OF ONLYFANS CLONE
Subscriptions & Purchasing Posts
Fanzly is embedded with features to subscribe to individual creators and also they purchase individual posts.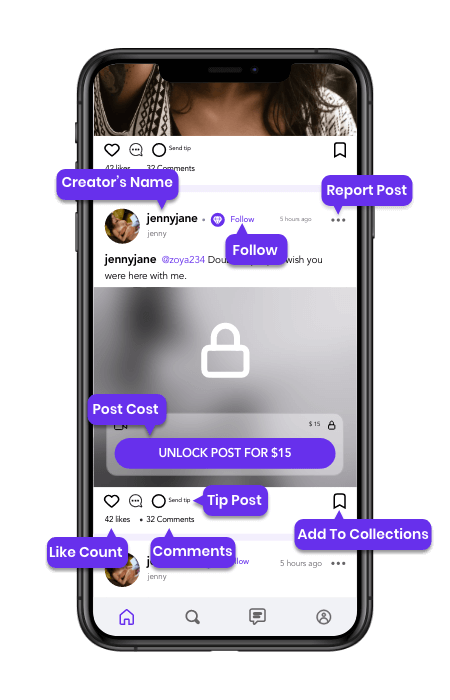 Purchase Post
Subscribers can buy posts by paying a fixed amount to creators. These posts are exclusive content that is price locked for both subscribers and guest users.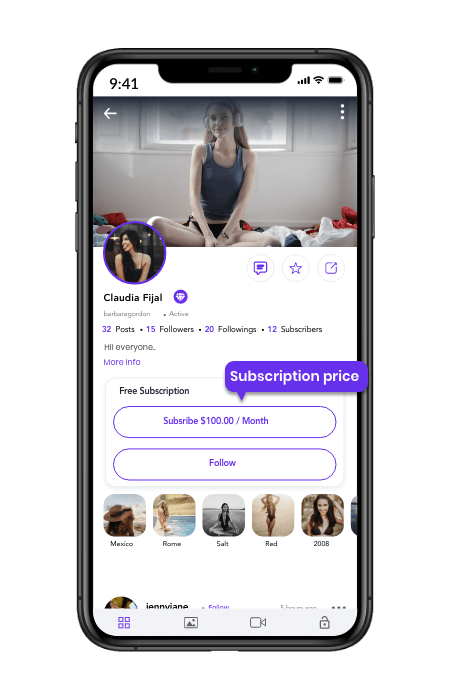 Individual Subscriptions
Users can subscribe to only creators of their choice and access unlimited content like videos, photos, and stories.
Send Tips To Creators
Subscribers can send tips to creators' photos, videos and stories. They can choose the amount and also keep their information anonymous.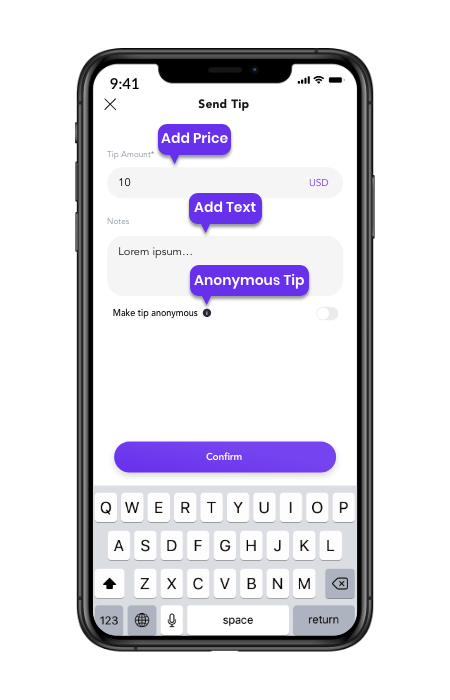 Send Tips
Subscribers can send tips to desired photos, videos, and stories to boost and support the creator's content. They can also keep their names anonymous.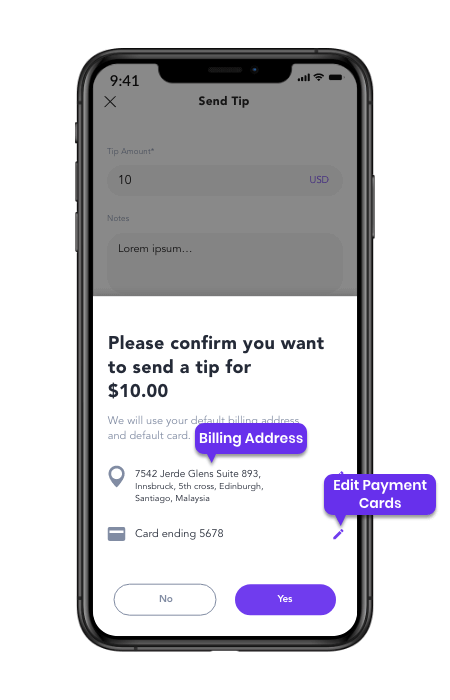 Secure PCI Compliance For Payments
All the tips and payments are billed to the subscriber's billing address and they can change their mode of payments any time on Fanzly.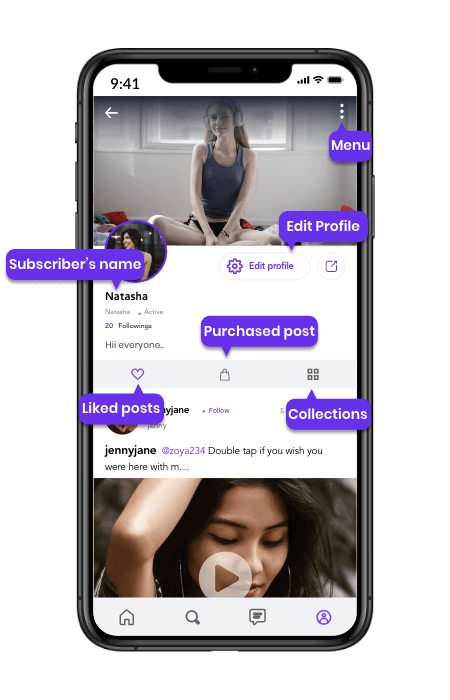 Subscriber's Profile
Users can store and view the content of all their subscribed content, purchased posts, and collections. They can edit their profile and billing addresses easily.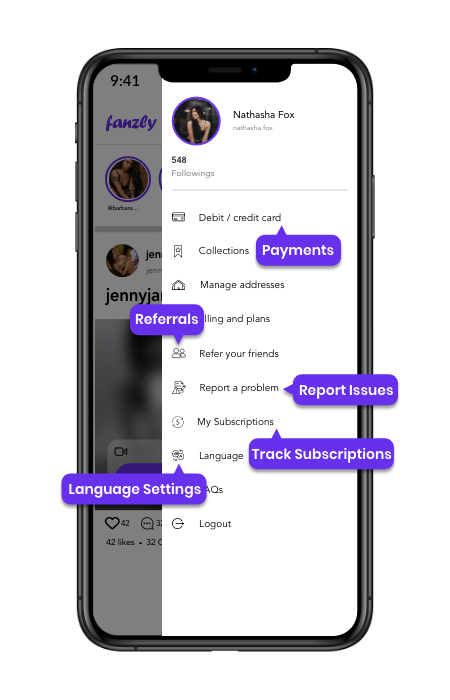 Subscriber's Menu
Users can get easy access to change payment methods, refer friends, repost issues and track their subscriptions using the menu option.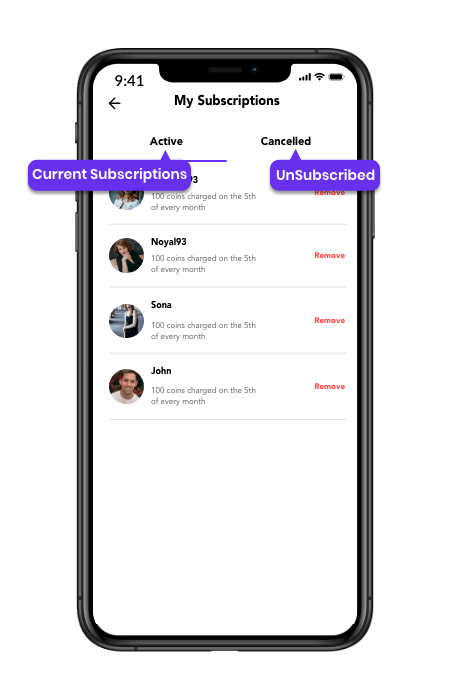 Track Subscriptions
Users can view all their active subscriptions and canceled ones on our OnlyFans Clone script. They can remove or revert their subscription plans.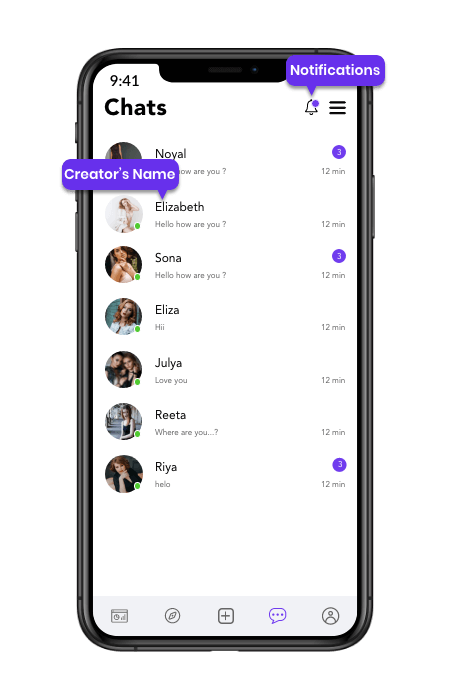 Intimate Chatting
With Creators Users can do intimate chatting with creators on our OnlyFans clone script. They can send personalized requests over chats.
ONLYFANS CLONE WEBSITE UI FLOW
We understand certain markets across the globe where customers use websites as a source for such quality entertainment. Along with the app, we provide an online subscription-based content platform website for your customers.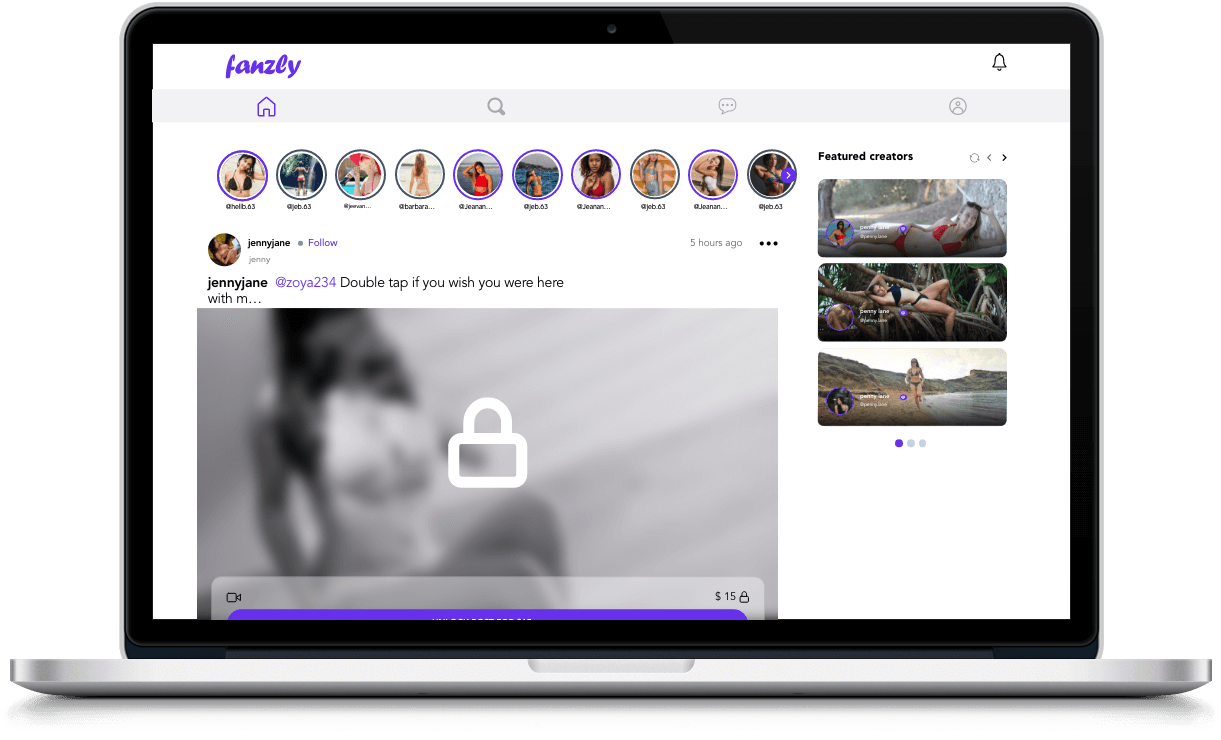 All subscribed content readily available on the home screen for subscribers Our in-built algorithm recommends top creators' content.
Subscriber's Detailed Profile
Users can store and view the content of all their subscribed content, purchased posts, and collections. They can edit their profile and billing addresses easily.
Choose Your Subscriptions
Users can subscribe to creators of their choice and access unlimited content like videos, photos, and stories.
Subscribers can send tips to desired photos, videos, and stories to boost and creator's content. They can also keep their names anonymous.
A Creator-friendly UI On OnlyFans Clone
Seamless Creator UI Flow
We aim to provide power and financial control completely in the hands of creators. Creators of all kinds from fitness trainers, artists, adult-entertainers, influencers can provide quality content and earn instantly on our OnlyFans clone.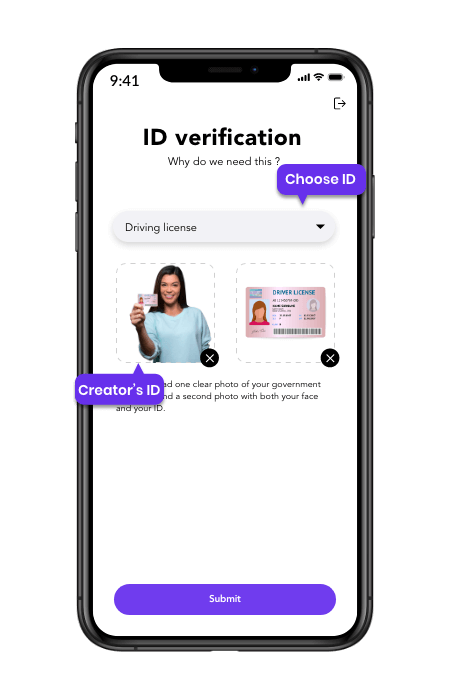 Creator's Verification
Our creator signup process involves a detailed process with ID verification of creators to filter our genuine artists.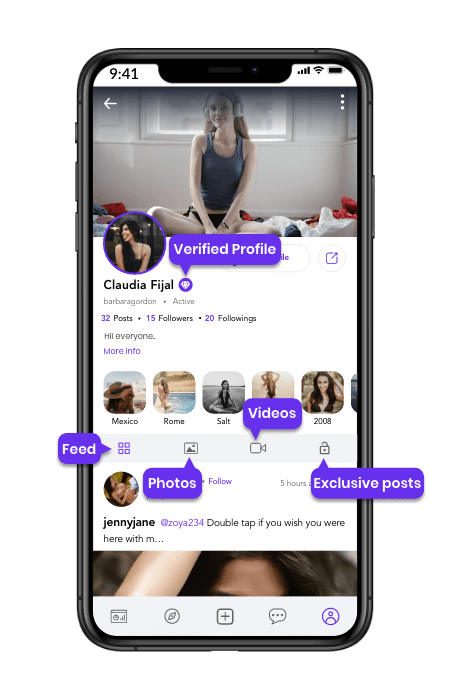 Mesmerizing Profiles
Creator's profiles are filled with features to post pictures, videos, exclusive content, stories and get insights on individual posts.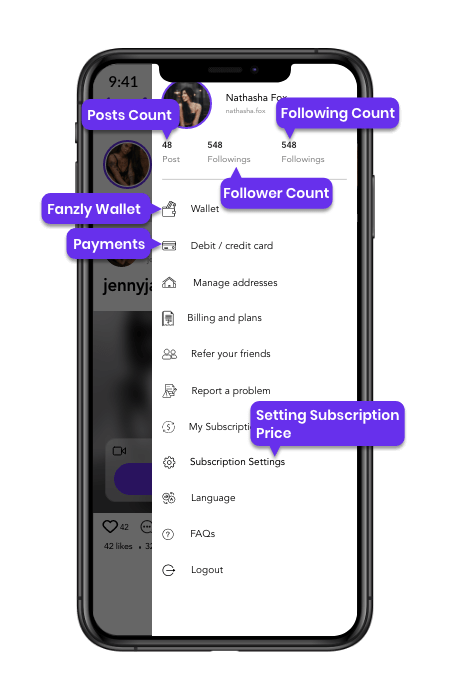 Creator's Menu
Artists can easily get access to their follower count, post count, unique Fans.ly wallet, subscription settings, and others.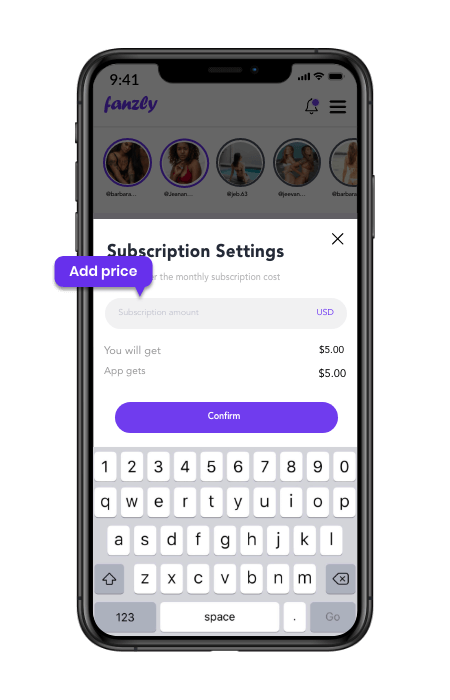 Subscription Settings
Creators have complete freedom on setting monthly subscription prices on our OnlyFans clone. They can adjust prices depending on how their account performs.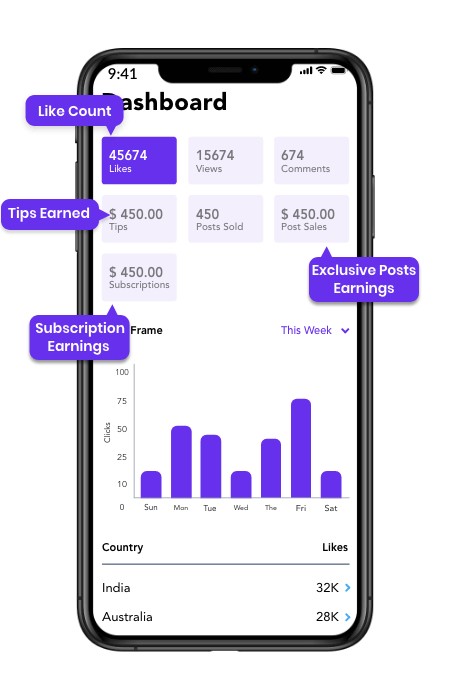 In-depth Analytics
OnlyFans Clone script is equipped with an intuitive and detailed dashboard for creators to analyze their posts, earnings and sales.
Easy Sign-up Process
Artists of any background can easily create profiles on our OnlyFans clone and instantly sell content and earn benefits.
Entertaining Posts For All
Artists can create different types of posts catering to their audiences. They can create exclusive price-locked posts, feed posts, videos, and stories.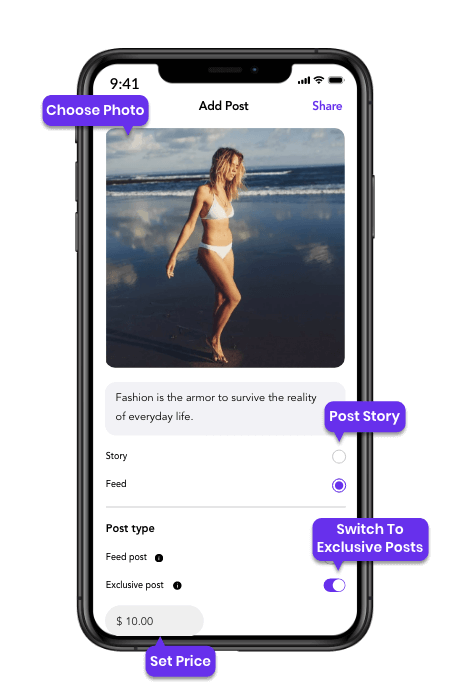 Exclusive Post
Creators can post photos or videos as exclusive posts. They can set a price of their choice and lock their posts. They can be further promoted by messaging to their subscribers.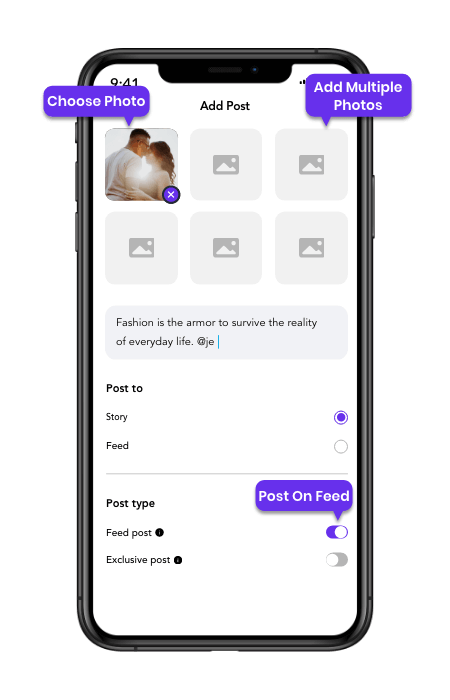 Feed Post
Creators can choose multiple photos and post them on their feed to captivate subscribers' interests.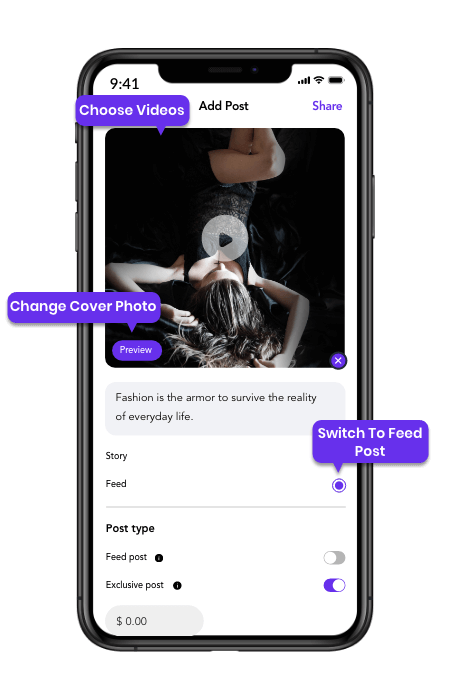 Post Immersive Videos
Creators can upload curated videos, set preview images, and post them as exclusive and feed posts.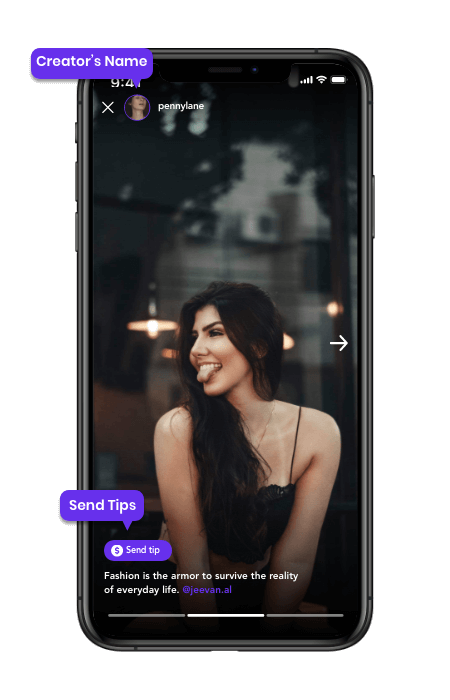 Create Stories
Creators can upload time-bound stories and even get tipped for their stories.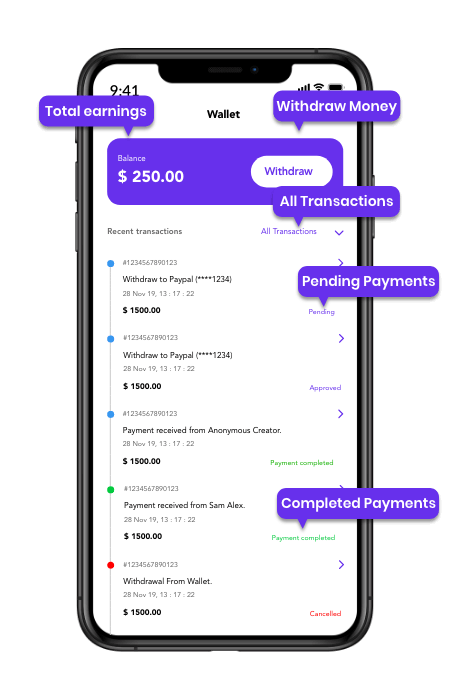 Unique Fanzly Wallet
Creators can track their earnings and transfer money to their respective banks seamlessly.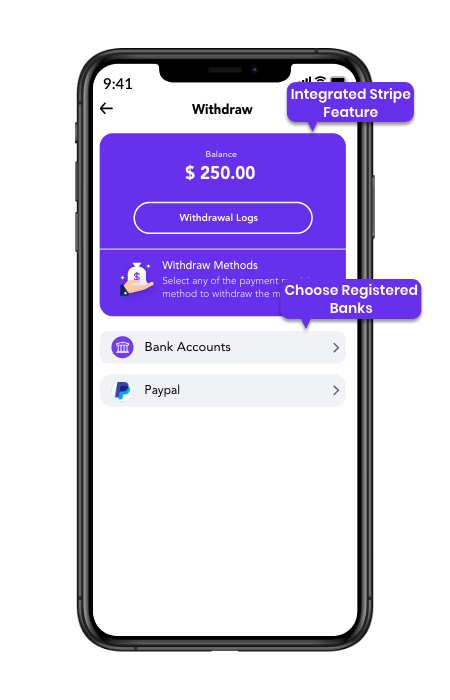 Embedded Stripe Payments
With integrated Stripe feature creators can withdraw subscription payments and offer customers discounts and coupon codes.
THE BEST SUBSCRIPTION – BASED PLATFORM FOR MODELS AND ARTISTS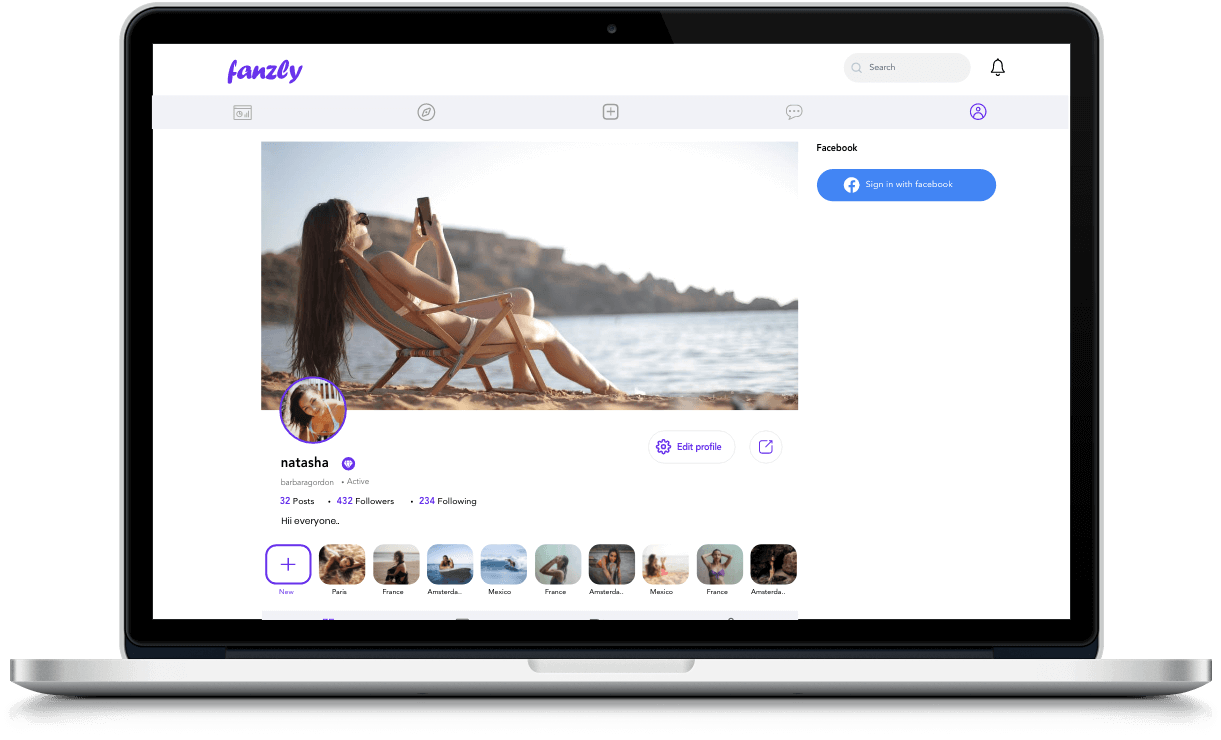 Features on the creator's profiles help them post pictures, videos, exclusive content, stories and get insights on individual posts.
Filtering Quality Creators- Easy Signup Process
Our creator signup process involves a detailed process with ID verification of creators to filter our genuine artists.
Creators can post photos or videos as exclusive posts. They can set a price of their choice and lock their posts.
Our script is equipped with an intuitive and detailed dashboard for creators to analyze their posts, earnings and sales.
FAQs
Why is OnlyFans a Progressive Web App( PWA) instead of a mobile app on the app stores?
There is no official app for OnlyFans on Appstore or Google Play Store. The App Store has stringent review guidelines and emphasizes the safety of its users. Google Play Store advocates a safe and respectful platform that does not tolerate inappropriate content.
OnlyFans can only be accessed via their web site's URL on a browser
How to build an OnlyFans clone as a PWA?
Progressive web apps are a way to bring that native app feeling to a traditional web app. With PWAs we can enhance our Onlyfans Clone website with mobile app features which increase usability and offer a great user experience.
Step 1: Generate a basic React application
Step 2: Install Lighthouse
Step 3: Set Up A Service Worker
Step 4: Add Progressive Enhancement
Step 5: Add To Home Screen Capability
Step 6: Deploy Via Firebase
Contact our team of experts to know more on how you can build an OnlyFans Clone Progressive Web App (PWA)
Will my OnlyFans clone work on desktop and mobile both?
Yes, OnlyFans Clone works both on desktop and mobile. On the desktop, it works as a website, and on mobile, it works as a Progressive Web App (PWA). Users can add open the OnlyFans Clone website on mobile and add the URL to their homepage.
Is my paid content secure on the OnlyFans clone?
OnlyFans clone consists of a 2-step verification for every creator to access.
To discourage non-consensual re-posting, it's a good idea to Watermark your content. This serves as a copyright protection feature.
Creators have the authority to block subscribers on the OnlyFans clone.
Creators on the OnlyFans clone can choose to share their activity status, media count, the sum of your tips.
OnlyFans clone payment process is secure and anonymous?
All the payments made by the users are secure and can be kept anonymous. Users can also choose their billing address and perform multiple payments at the same time.
How will creators get paid on the OnlyFans clone?
Creators have many monetization features on the OnlyFans clone.
Creators can set a fixed amount to a post and users can purchase this post.
Users have to pay a subscription price to access content on the creator's profile.
Users can send tips for each post of creators and can keep it anonymous.
Creators can post "exclusive posts" and lock these posts for a price.
What are the best technologies used to build OnlyFans clone?
OnlyFans clone is built with best-in-class technologies like React.js, Neo4j, Next.js, Django, Elastic, MongoDB, Isometrik, and more.
How much does it cost to build OnlyFans clone?
Depending on the requirement and design specifications and apps built on iOS and Android the cost to build an OnlyFans clone varies. Get in touch with our team and specify your individual needs and you can get an accurate estimate of the cost to build an OnlyFans Clone.
Will my app scale in case we acquire thousands of users?
All our products can be scaled vertically and horizontally. All the backend components can be dockerized and clustered. Our products are built to support 100's of thousands of users. A good solid server infrastructure as shown below is a good example of a configuration built for scale.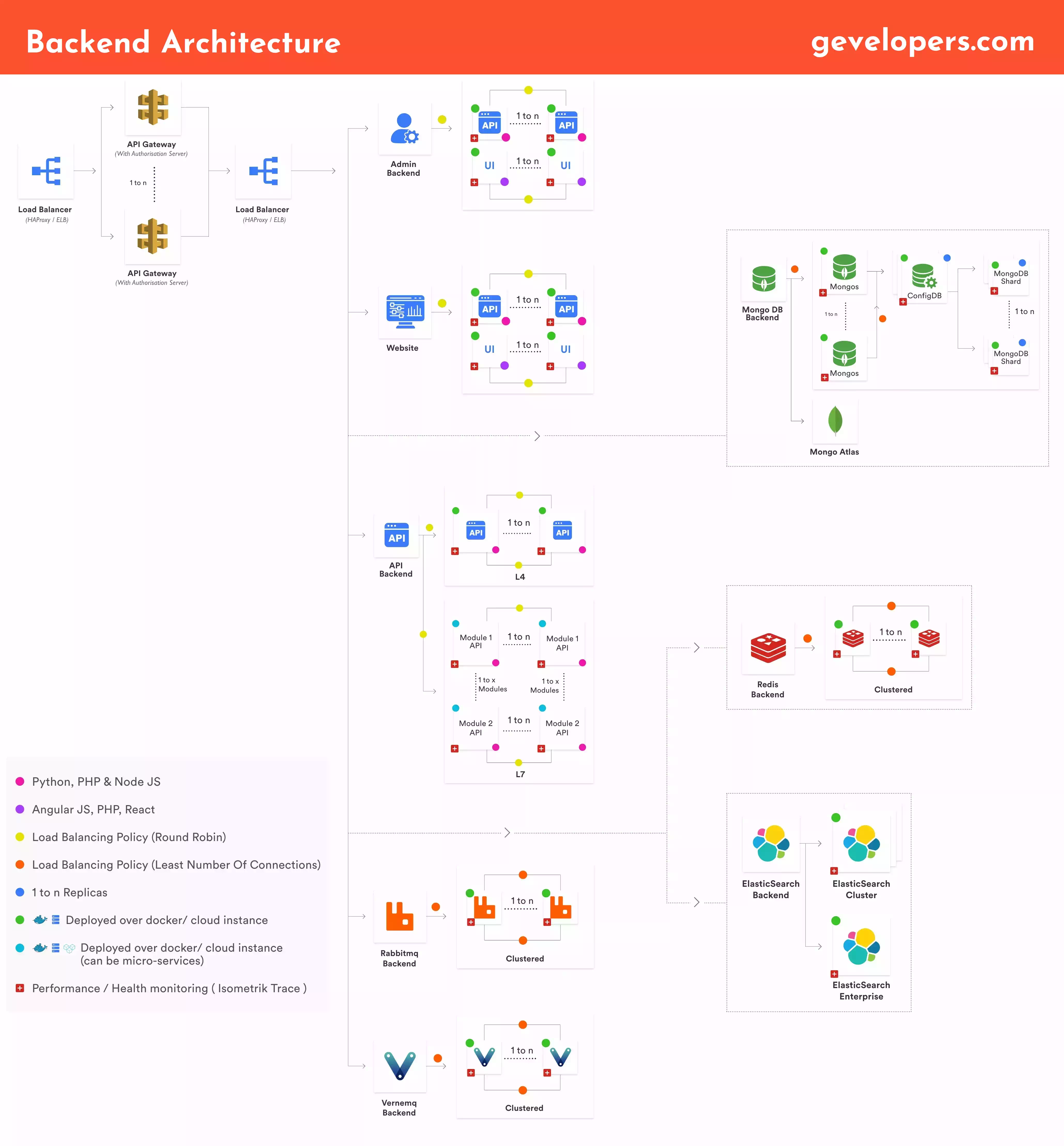 Will I get sued for using this product which is being advertised as a clone of a popular product/app?
We are deeply inspired by the popular apps we create CLONE PRODUCTS off but we by no means acquire any source code from any of these awesome companies and products.
We have taken strong and definitive steps to ensure we don't step any legal boundaries with any other popular product. We use the word CLONE mostly as a marketing trick and we in NO WAY reverse engineer any app to make our products. All our products have been built ground up in the company.
We have also taken steps to ensure we add unique flavors into the product to guarantee they stand out in the market-place. We have also ensured we put in unique UI elements so that it does not look exactly the same as any other popular product.
What have you done for making the app more secure ?
Most secure app infrastructure in the market where security extends from the mobile app to the API's.
Use of keychain on iOS and Android to store all credentials.
All API's are secured with a wildcard SSL certificate.
Use of JWT and JWE for securing all API's.
Load Balancer supported for horizontal scaling.
All customer data on the server is encrypted using 128 bit AES encryption.
Tele call between patient and healthcare professional is via secure WebRTC which is running on a secure WebRTC gateway which in-turn is running on a on-premise ( self hosted or cloud hosted ) server infrastructure.
Rate limit API and controller access to minimize the harm from automated attack tooling.
App secured from any DB injection.
App protected from clickjacking protection, XSS, MIME-Sniffing, HSTS, HPKP or set the CORS settings.
Security headers are enabled.
Scripts are not deployed with default credentials, particularly for admin users.
Uses a server-side, secure, built-in session manager that generates a new random session ID with high entropy after login. Session IDs should not be in the URL. Ids should also be securely stored and invalidated after logout, idle, and absolute timeouts.
JWT tokens are invalidated on the server after logout.
Can I resell this product ?
At the time of writing this page we have no RESELLERS of our products. We also don't allow any of our customers to re-sell the product once they acquire it from us. We do share the source code of the product with our customers but we provide them with a perpetual license which is bound by a contract that we sign when we are issued a purchase order. There is no license key in our software products but the legal contract that we sign prohibits our customers from re-selling our source code to any one else.
Can I sell my company?
We built Gevelopers.com with a mission to accelerate your journey to become an entrepreneur. Every entrepreneur's dream is to be acquired for multi million dollars and therefore we in no way prohibit you from selling your company to anybody else. The perpetual license will be transferred to the company that acquires your company and the same rules from point (4) will apply to that company as well.
Since you clone other apps, what will stop you from cloning my idea? Is my idea safe with you ?
We sign NDA with our clients to ensure we don't disclose their idea to anybody else. We usually have a product road map and all our products have a rate card that details what features we have on them and what are coming out soon. Anything outside that list can be protected with an NDA that we readily agree to sign. Therefore, your idea is perfectly safe with us.
Will you support my app after it goes live?
We provide free patches for bugs on our core products for a year after purchase. These patches are supplied via GIT pushes to your source code repository. We however don't do the actual code merge etc for you as that would cost us man hours.
We have paid support plans available. We know our apps best so for most of our customers it makes a lot of sense to hire our team for support. We have different support packages available depending on the SLA required ( Service Level Agreements).
Can I hire your team for customizing my app or for building a full custom application?
Logically thinking if you do buy our app and you want to customize it, there is no better team than ours to do it for you since we have developed all the underlying base code.
We have the biggest range of pre-built business applications in the market that cover several business models. We built all these products with the sole aim of reducing time to market and cost to market for our customers.
On average it costs over $100,000 to build most of these products that we have, so using them as a base to build your customized business idea will definitely bring your costs and time down significantly.
Most custom software development companies pitch you a full project plan to develop a product from scratch, a process that might take months and cost you pot loads of money, where-as we pull something out from our repotriotire, customize it and voila we have you a product in let's say 60 days 🙂
In case you do have an idea that is not similar to any of our pre-built products we can surely develop something totally custom, from scratch for you. We will try to re-use some of the micro-services and reusable software components to do some rapid application development.
We have done this successfully for large corporations who have raised multi million dollars in venture capital funds. Our team comes with a strong technical expertise in a broad range of technologies that cover:
API Development – GoLang, Node.JS, Python, Elixir (Erlang)
App Development – iOS ( Swift, Objective C) , Android (Java, Kotlin), Flutter, React Native
Web Application Development – React.JS, AngularJS 9.0, Next.JS, Vue.JS
Data Science & Analytics – Apache Kafka, Apache Spark, Apache Flink, Hadoop
Blockchain- Hyperledger
Desktop Application – Electron JS
What are my operation costs and 3rd party services I need for running the app?
The major costs involved for running applications of such nature are as follows:
Server costs for hosting the API's and Database – A decent configuration on AWS / Azure / Google / Digitalocean will cost you anywhere between $150-$200/month.
Content Delivery Network – Apps such as these require the content to be delivered seamlessly with low latency and low bandwidth consumption. We use a CDN to ensure we are doing image / video transformations to maintain content quality at different network speeds and different devices.
Text messages for verification codes – We generally use Twilio for sending text messages. The price for this depends on the country and can be tracked here @ https://www.twilio.com/pricing.
Transactional emails – We generally use services like Sendgrid, Mailgun or Amazon SES for sending transactional emails. All these services usually have a free tier that should hold good for new apps.
SSL – We secure all our apps via a Wildcard SSL certificate that secures all sub domains for a particular domain name. This is important for security. A pretty affordable place to get one will be here @ https://www.ssl2buy.com/alphassl-wildcard.php
Cloudflare – We use Cloudflare as a firewall and also often to manage the domain. It has a free tier and that usually is good enough. If under attack like maybe a DDOS attack , Cloudflare can prove to be a pretty solid first layer of defence.
Google Map API – We use google map api's for tagging locations with a post and also for sharing locations inside the chat. A google map API key with billing enabled is required to use this service.
Apple Developer Account – An apple developer account is required to host the app under your name. An account costs $99/year. Individual accounts are pretty easy to create but if you need the app to show under your company name then you will need to apply for a company account and that requires a DUNS number that you will need to first acquire to get listed as a developer with apple. Follow steps here @ https://learn.buildfire.com/en/articles/477266-how-to-create-an-apple-developer-account-and-enroll-in-the-program
Google Play Developer Account – A google play developer account is required to host an app under your name / your company's name on the Android play store. This costs $25 one time. You can get a google play developer account here @ https://play.google.com/apps/publish/signup/.
Domain Name – A domain name is required to host the API's / website etc. A domain name can be bought from sources like GoDaddy etc. Price of a domain name really depends on its availability etc.